Summary: In this article, we will share the 18 biggest mistakes when buying rental property. We will also discuss why these rental property mistakes are so common, how they could cost you, and different ways to avoid them. 
Introduction
Learning from other people's mistakes when buying rental property will not only help you avoid them, but it will also help better prepare yourself for what to expect throughout the buying process. Avoiding these common mistakes could save you thousands of dollars and increase the likelihood that your real estate investment will succeed and produce cash flow.
---
18 Mistakes to Avoid When Buying Rental Property
The following are 18 big mistakes to avoid when buying a rental property. By avoiding these mistakes, you will save yourself a lot of headaches, stress and money.
Mistake #1- Buying Too Large / Too Many Rental Properties
It's always best to start off small. If you buy too large a property or too many properties at once you'll have a lot to deal with, including increased property taxes, more ongoing maintenance costs and more rehabs when tenants move out. Real estate investors who choose to "bite off too much" may find themselves regretting their decision pretty quickly. Especially if you are a new investor, it's wise to start with one manageable property and build from there.
Mistake #2- Buying Property with No Cash Flow
When buying rental property, cash flow should be a deciding factor. Failing to run the numbers and buying property with no cash flow is one of the biggest mistakes investors can make. If your property isn't producing cash flow the chances of losing a lot of money on the investment are great.
Mistake #3- Not Having Enough Reserves for Maintenance and Vacancies
Many experts say that investors should have a year of cash reserves in the bank to cover a rental property mortgage plus maintenance expenses and vacancy. One can never assume a rental will be occupied 100 percent of the time. In fact, rental property owners should count on some times of vacancy. The same goes for maintenance expenses. Not having a back up plan including enough cash reserves on hand can be someone's biggest mistake.
Mistake #4- Not Getting Your Inspection and Appraisal Reports
In other words, it's a huge mistake when investors buying a rental property choose not to do their homework. Performing extensive due diligence and research before purchase is key to the success of your investment.
Mistake #5- Investing Based on Appreciation
Rental property values can fluctuate year over year. In a down market a house may lose value. Unexpected life events may pop up and force you to sell at a below market price, causing a loss on the property. Therefore, investors should always buy a rental property based on cash flow, not "expected" appreciation.
Mistake #6- Missing Contract Items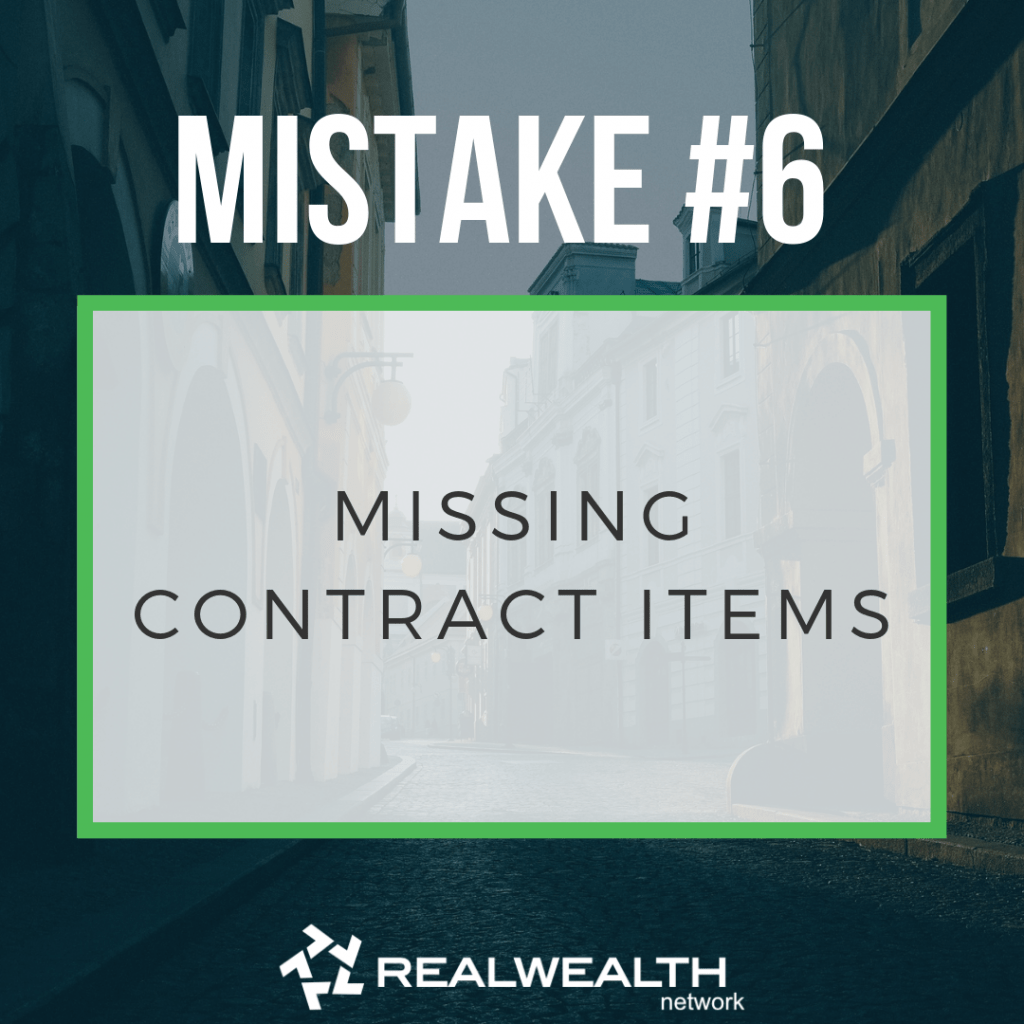 It is extremely important to read through all the paperwork, agreements and contracts. Although it's tedious, take the time to make sure all necessary clauses are included in the contract prior to signing it. Missing items can end up costly you dearly. You should definitely hire a lawyer to look over the paperwork and fix any issues.
Mistake #7- Hiring Bad Property Management
It is essential to hire a property management company who is reliable and efficient. The success of your rental depends on it. An outside property management company can be both expensive and unreliable. An in-house management company who knows the ins and outs of the property will work best, if available.
At RealWealth, we believe one of the keys to success in real estate lies within the experience of the management team. We have established a network of helpful and reliable property management teams. This allows investors to buy rental property without having to manage it on their own.
Mistake #8- Incorrect Insurance Coverage
Getting the wrong insurance is a common rental property mistake. Real estate investors who don't buy enough insurance or coverage customized to their needs, may suffer huge losses. The right insurance policy can protect your investment throughout the life of the property.
Mistake #9- Planning As you Go
The thing about real estate investing is that you can't just wing it. "Figuring it out" as you go will most likely result in your classic rental property pitfalls and cost you. Planning ahead is one of the best ways to avoid real estate nightmares.
Mistake #10- Not Having the Right People
Another mistake people make when buying rental property is surrounding themselves with the wrong people. You should work with people who have a lot of experience and are able to pick up the slack in areas you may not be as experienced with. Find people who know how to find strong markets, lenders who offer great financing options and property managers you can count on. Investing in property works best with the right people in place.
Mistake #11- Paying Too Much
This mistake may sound like a no-brainer, but buyers overpay for houses all the time. One reason people sometimes overpay is because they don't do their research. They don't pay attention to the market in the area they are buying or overlook due diligence items, like appraisals and inspections. Paying too much for a rental property makes it very difficult to see positive returns on your investment, especially right away.
Mistake #12- Underestimating Ongoing Expenses
Underestimating expenses is an easy mistake to make. That's because it is really hard to predict or estimate how much expenses will actually be. This is particularly true if this is your first time buying rental property. A good rule of thumb is to overestimate the cost of maintenance turnover, and other ongoing expenses. As the old saying goes, It's better to have too much than too little. Don't make the mistake of not having enough cash reserves in the bank to cover both expected and unexpected expenses.
Mistake #13- Not Looking at Enough Properties Before Buying
Even if you think you've found the right rental property to buy, don't stop researching. Another big mistake investors make is failing to look at and research multiple properties. At the very least, doing so will give you a really good idea of what else is out there and how the property you're looking to buy compares to what you are looking for.
Mistake #14- Making Emotionally-Driven Decisions
It's understandable to become emotionally invested in a house you want to buy for yourself. After all, you will be living in it everyday. Rental properties should be treated differently because it's all about making your investment perform as well as possible. . Rental properties should be approached with logic, not emotion. If the numbers don't work, let the property go and move onto the next.
Mistake #15- Buying Rental Property in a Depreciating Market Area
Again, this mistake is tied to a similar mistake, which is failure to do your homework. If you buy a rental property in a depreciating area it may be nearly impossible to earn cash flow. Rents go down in depreciating markets, which means you'll be pulling in less monthly cash from tenants and losing equity in your depreciating property. Do your market research to avoid this common rental property mistake.
Mistake #16- Getting Bad Financing
Creative financing can be a great idea, but only if it's done correctly. Too often rental property buyers will settle for bad financing. This can come in the form of paying high interest rates, putting down a small down payment (which may require mortgage insurance – an added cost), or not shopping around for the best financing.
Mistake #17- Doing Everything Yourself
Thinking you can do everything yourself is your first mistake. If you talk to an experienced property investor, chances are they will tell you about all the systems and people they have in place to help them succeed. For example, if you want to have a personal life, you will want to outsource a property management company to take care of the day-to-day demands and onsite maintenance. The good news is, the cost of a property manager is tax deductible.
Mistake #18- Failing to Perform Rental Rate Analysis
Because you will be renting out your property to tenants, it's important to research comparable rentals in the area. Look at properties with comparable square footage, bedrooms, bathrooms, etc., and find out how much they are renting for. Performing a rental rate analysis in the surrounding area will give you a good idea of how much rent you can expect to charge. It will also help you determine whether the monthly cash flow will produce a positive ROI or not.
---
Conclusion
Now that we have covered the 18 biggest mistakes when buying rental property, we hope you take this knowledge and make your investment experience go as smoothly as possible. Be aware of the challenges you may face and prepared to take them on, problem solve, and avoid costly mistakes.
If you're new to investing, and are looking for help getting started, consider joining RealWealth.
Benefits of Membership include:
Free access to educational resources, including articles, webinars, podcasts
Free weekly webinars
Complimentary strategy session with one of our Investment Counselors
Recommendations on different markets to invest
Connect members with our property teams in those markets
And much more…
---
---
Sources:
https://cashflowconnections.com