Summary: As there is a lot of time and money that comes along with buying, maintaining and renting property, landlords should understand their responsibilities. This article will provide helpful tips on how to be a landlord and how to make your experience go as smoothly as possible.
Introduction
Real estate can be a very appealing investment for several reasons. Earning passive monthly income may be at the top of the list. Other benefits include tenants paying off your mortgage, tax advantages and property appreciation.
However, there's a big difference between simply investing in real estate and actually being a landlord.
Whether you are currently a landlord, (perhaps struggling or why would you be reading this article?), or; you are taking the steps to become a landlord, this topic should be approached with careful thought and consideration.
---
Is Being a Landlord Worth It?
While this question may sound cynical, it's the first thing you should be asking yourself after reading this article.
Since the financial crisis, there has been significant growth in the rental market, specifically single-family rentals. With the demand for rentals continuing to grow, real estate experts expect this trend to continue, which is good news for landlords.
With that said, all types of investors know there will be highs and lows. Real estate investing and being a landlord is no exception.
What if the real estate market experiences a downturn and you don't have enough cash reserves? Or your rental is in need of a costly repair that you can't afford? Or your tenant stops paying rent and you're faced with coming up with enough money to cover multiple mortgages? A good rule of thumb is to buy rentals with the best chance of generating positive cash flow AND keep adequate reserves in the bank.
Where investing in real estate really pays off is buying and holding a property long-term. Passive monthly rental income won't make you rich overnight. Rather, owning rental property is a long-term investment with great appreciation potential, especially if done correctly.
---
12 Tips for Being a Landlord
Even if you're just managing a property or two, start building systems now. Your goal as a landlord is more free time, while generating monthly cash flow. Putting systems in place now will help you seamlessly manage your properties and set you up to build wealth and maybe even retire early. Follow these tips on being a landlord to ensure the greatest success.
Tip #1: Educate Yourself
Good job! You're already taking a step to educate yourself on how to landlord. A great way to learn what it takes to be a landlord is to avoid common issues before they arise. You may be asking, "how do I know what issues to avoid if they haven't even occurred?" Becoming a successful landlord doesn't just happen overnight.
Landlords must learn how to handle the problems they will likely face and be knowledgeable in how to best resolve these issues. There are several useful resources out there to help you do that, including: books, online forums, courses and mentors. Take advantage of these (often free) resources and become an expert on how to be a landlord.
Tip #2: Create and Enforce Policies
If landlords are making up rules as they go, it's much more difficult to enforce on tenants if they do something you don't like. By having written policies in place, you protect yourself from a tenant consistently paying rent late, for instance. Landlords can simply refer to the established policies the tenant agreed to.
Tip #3: Have a Rock-Solid Lease Agreement
The policies a landlord sets should be clearly explained in the lease agreement signed by the tenant. Putting together a lease agreement is a good time to consult a real estate lawyer or a landlord with lots of experience. Landlords with lease agreements that cover all of their bases will make or break your entire experience, and likely the tenants as well.
Tip #4: Utilize Electronic Pay Systems to Collect Rent
One of the most inefficient things a landlord can do is spend time calling tenants or driving around to collect rent. Make things easier on both you by using an electronic pay system to collect rent. It's easy to set up and will save you loads of time and worry.
Tip #5: Be Strict with Late Fees
While tenants may appreciate a landlord who is lenient on rent deadlines, you'll learn the hard way if there are no consequences in place. Establish a late fee policy from the start and stick to it. If a tenant knows they will be charged a late fee if rent isn't received on time, they will prioritize paying rent before other expenses. Always charge a late fee. It isn't personal, it's business.
Tip #6: Establish Office Hours
Nobody wants to get a call from a tenant at midnight or 6:00 a.m. on a Sunday. One upside to being a landlord is having the option to choose your availability. Setting reasonable office hours like, weekdays between 9:00 a.m. and 4:00 p.m., will eliminate constant phone calls from your tenants. If tenants call outside of office hours, let it go to voicemail. Tenants will leave a voicemail if it's urgent and if not, chances are it can be handled during office hours.
If you are trying to fill a vacant unit, it's usually best practice to answer calls at anytime. However, that's entirely up to you.
Tip #7: Set up a Google Voice Number
Did you know that Google offers a free service called Google Voice? Simply set up an account, which provides you with a unique phone number that is automatically forwarded to your cell phone. Give this number to your tenants, complete with a business voicemail. All calls to this number will ring to your cell phone or multiple phones. Google Voice also allows you to set a schedule, according to your office hours, and either ring or send straight to voicemail.
Tip #8: Train Tenants to Perform the Way You Want
Establishing and enforcing the policies outlined in the lease agreement will automatically train your tenants to perform the way you envisioned. Imagine if a school teacher spent all this time outlining rules and expectations and then didn't hold students accountable when a rule was broken. As a former high school teacher, I can assure you that pure chaos would ensue and complete control (and respect) would be lost.
Laying out the policies and expectations upfront and sticking to them, will make a landlord's life a whole lot easier.
Tip #9: Remember that a Quality Product Attracts Quality Tenants
While there are always exceptions to this rule, more often than not, the condition of your property will set the tone for the kind of renters you want. If it's obvious to potential tenants that a landlord is on top of things and have taken extra care of the rental, they will likely follow your cue.
Not only are you providing a place for tenants to live, landlords are also running a business. Landlords who maintain professionalism, are organized and fix repairs in a timely manner will make a huge impact of how tenants view your product.
Tip #10: Know When to Hire Out
Knowing how to be a landlord is also knowing when to outsource certain maintenance and repairs. Some repairs are easy to fix and some are not. Even landlords who consider themselves very handy doesn't necessarily mean they should do all the repairs themselves.
As a landlord, do you really want to spend a significant amount of your time fixing repairs? A big reason real estate investors choose to become a landlord is to enjoy more free time, while still earning income. The key here is to figure out how to balance cost savings with enjoyment or time. Just because you are capable of doing something, like a repair, doesn't mean you should. Know when to hire out and when to do it yourself.
Tip #11: Don't Underestimate the Importance of Organization
Oftentimes, the difference between a business that succeeds and one that doesn't is as simple as being organized. Have all forms such as, rental applications, lease agreements and policies neatly organized and on-hand for easy retrieval. Stay up-to-date on accounting and keep a clean office. By doing these seemingly insignificant organizational tasks, your business will run more smoothly and successfully.
Also, keep thorough documentation of all expenses pertaining to the property as many qualify as tax deductible. Yet another reason to be diligently organized.
Tip #12: Don't Rent to Family or Friends
This one should be self-explanatory, but it's one of the most common pitfalls for landlords. For example, let's say you rent out your property to a close friend and they start paying rent late or disregard policies. You're then faced with getting taken advantage of or losing a friendship. Don't put yourself in a difficult situation unnecessarily.
---
8 Landlord Responsibilities To Know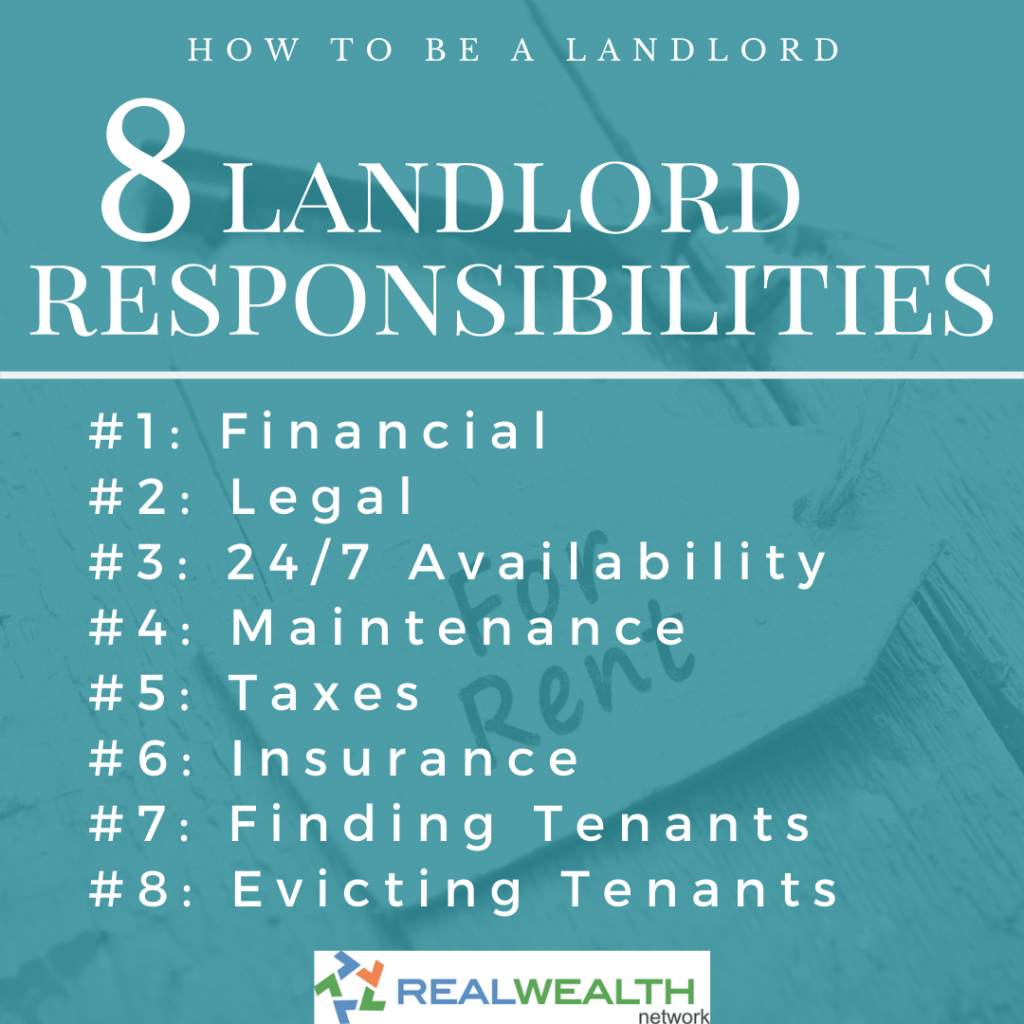 Along with several ways to make life as a landlord easier, understanding your responsibilities and obligations will give you a good idea of what it takes to be a good landlord.
Responsibility #1: Financial
Assuming you're the owner of the rental property, paying the monthly mortgage, even when vacant, is your responsibility. There will also be unplanned expenses, like a furnace or dishwasher going out.
Responsibility #2: Legal
Landlords must comply with local laws, rules and regulations regarding the rental property. Do your research and make sure you're compliant to avoid a fine or lawsuit.
Responsibility #3: 24/7 Availability
Establishing office hours will minimize the need for a landlord to be available at all times. That said, the landlord should provide an emergency number in the event a pipe bursts and the unit is flooded in the middle of the night. Consider hiring someone to be available for these types of situations, if you aren't able or willing to.
Responsibility #4: Maintenance
It's the landlords responsibility to make sure the rental is in habitable condition. Above all, the structure must be safe. This will involve routine maintenance and inspections, as well as trash removal.
Responsibility #5: Taxes
The good news is, there are many landlord tax deductions to take advantage of to offset out-of-pocket expenses. Qualifying deductions include, interest on your mortgage, repair and routine maintenance costs, depreciation and monies paid for outsourced maintenance.
Responsibility #6: Insurance
When comparing insurance policies, be sure to get a landlord-specific insurance policy. A standard homeowner's insurance policy won't cover the rental property while a tenant is living in it.
Responsibility #7: Finding Tenants
One of the biggest stressors for landlords is having a rental property sit vacant, especially for an extended period of time. While it's important to find people to occupy the rental, don't be hasty about finding just anyone. Taking extra precaution, like a thorough screening process, to find quality, long-term tenants, will prove to be your greatest investment of all.
Responsibility #8: Evicting Tenants
Evicting a tenant is definitely one of the harder things to do as a landlord. First, landlords must provide the tenant with a written warning prior to eviction. If the tenant doesn't fix the situation (i.e. paying rent late), the landlord has the right to file an eviction notice. As tenants have rights too, there must be very clear documentation of any wrongdoing before eviction takes place.
---
What It Takes to Be a Landlord
Being a landlord can take more time and money than anticipated. In fact, it can demand so much that it becomes a full-time job. My advice, is to expect the unexpected. But don't stop there, landlords should plan for the unexpected.
Being a landlord takes great patience. Consider if you're up for the challenge or would rather hire a property manager or management company to handle day-to-day operations.
---
Conclusion
After reading this article, hopefully you have a better understanding of how to be a landlord. As we've learned, landlords have several responsibilities and obligations. Our ultimate guide to being a landlord is intended to help you avoid common pitfalls, unnecessary stress and potential loss in cash flow. It's also meant to pave the smoothest road possible on your path to becoming a successful landlord. You'll know you've made it when you have more free time, while building real wealth, and looking forward to early retirement.
---
---
Sources: